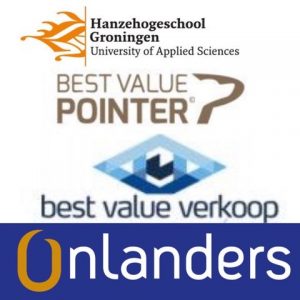 Theme: a 10 in the performance of the contract? It's possible! By realizing a connection between procurement and sales in the execution.
Buyers are well able to place a tender in the market and sellers to win the tender. But then? The execution ends too often in disappointing results. How can we prevent that?
Come to our seminar on Thursday 4 April, powered by Hanzehogeschool. During lectures by, among others, Dr. Dean Kashiwagi – inventor of the Best Value Approach- and interactive sessions, we unravel the secrets behind a successful execution.
Organizers
We – Best Value Pointer, Best Value Sales, Hanzehogeschool, Onlanders- organize this seminar for you because we believe in the power of connection between:
procurement and sales
students & business.
We can learn from each other!
Program
14.30-15.00: Walk-in
15: 00-15.20: Welcome and activation exercise
15.20-16.20: Lecture Dean Kashiwagi: Sustainable Procurement
16.20-16.30: Pause
16: 30-17.00: Workshop by Jolanda Lempers: Learn to say NO as a supplier!
17.00-17.30: Workshop by Marcel Niemeijer and Chris Boessenkool: Measuring is knowing in the execution
17.30-18.00: Roundtable session by Marleen Kempa
18: 00-19.00: Drinks & bites
Interesting for
Contract managers
Buyers
Sales managers / bid managers
Procurement and sales students
Sign Up
This event is free. You can sign up by sending an email to: j.lempers@bestvalueverkoop.nl or marcel@onlanders.nl
Please note the following details: name, company, email and whether you bring a colleague.